Banoffee cheesecake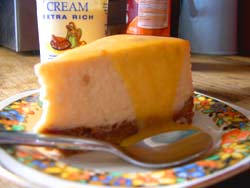 This recipe originally came from Delia's website. It worked perfectly the first time I used it - which isn't always the case with less reputable websites - but I have made a couple of adjustments to make it nut free.

Use a deep, push bottom, cake tin for this dish so you get a nice deep cheesecake.

For the cheesecake
200g (7oz) chocolate digestives
80g (3oz) butter

2 bananas
Juice of half a lemon
4 normal sized eggs
300g (11oz) cream cheese
200g (7oz) creme fraiche
200g (7oz) caster sugar
1 teaspoon of vanilla extract

Grease you cake tin and then line it completely with one big sheet of cling film. Place your biscuits in a plastic or hardy bowl and bash them with the end of a rolling pin until they are crumbs. Melt the butter and mix it into the crumbs. Mix thoroughly and spoon the mixture onto the base of the cake tin, even it out, and press it down with the back of a spoon. Refridgerate.

Mash the banana in a bowl and then add the remaining ingredients and whizz them up with a hand blender or vigorously with a whisk. Pour the mixture into the cake tin and then bake at 170°C for 1 hour if you are making a deep cheesecake. For a thinner cheesecake cook it for about 40 minutes.

Cool to fridge temperature and serve topped with more banana and a big dollop of the cold toffee sauce and cream.

For the toffee sauce
50g (2oz) butter
80g (3oz) soft brown sugar
50g (2oz) caster sugar
150g (5oz) golden syrup
150ml (little over half cup) double cream
The easy way to weigh out this recipe is to place a small pan on some scales and zero them. Weigh out each of your ingredients apart from the cream straight into the pan one at a time. Place the pan on a lowish heat and melt everything together until it forms a sauce stirring regularly. Serve from the fridge.
Serves 4

Autumn fruit cobbler
Aubergine parmigiana
Japanese style pancakes
Spinach lasagne
Floddies
Thai style wok omelette
Yakisoba
Goats cheese bruschetta
Caesar salad
Pink grapefruit salad
Japanese salad rolls
Paneer cheese massala
Mushrooms on toast
Vegetable tagine
Risotto cakes
Banoffee cheesecake
White chccolate and raspberry tart